HLA Peptide Complex Engineering
HLA Peptide Target Reagents
to develop T cell epitope-based Immunotherapies.
Using soluble HLA technology, we offer small and large-scale manufacturing of peptide-modified HLA complexes harboring a specific peptide of your choice used as reagents for Immuno-Therapeutic and Diagnostic HLA Receptor Generation and Validation.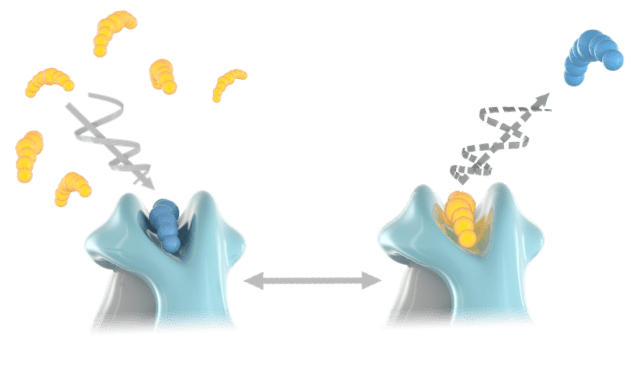 Select from three convenient modalities:
HLA peptide Monomers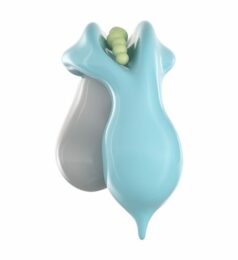 Soluble HLA peptide monomers are glycoproteins consisting of a heavy chain, a light chain (b2m) and the peptide of interest forming a trimeric complex. These complexes serve as exquisite immunogens for antibody generation.
Biotinylated HLA peptide Monomer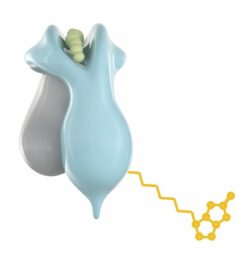 Chemically modified soluble HLA peptide complexes are conjugated with a biotin moiety. These biotinylated sHLA allow for efficient binding to streptavidin allowing their usage in many screening and validation applications.
HLA peptide Tetramer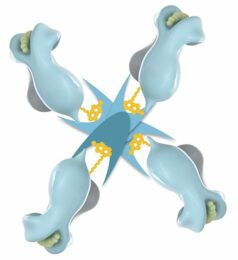 Tetramerized HLA peptide proteins generated by incorporation of biotinylated soluble HLA molecules into streptavidin. Non-labeled HLA tetramers are of high stability and provide increased sensitivity and complexity in immunization protocols.
T cell epitope-based Immunotherapies
During the last few years, there have been astonishing advances in the fundamental understanding of disease biology leading to remarkable treatments for once deadly diseases. With the arrival of HLA-based immunotherapies, a thrilling time lies ahead for the development of novel HLA peptide epitope-based diagnostics and therapeutics. With the T cell receptor (TCR) as the guidance system, T cell epitope-based Immunotherapies are considered a groundbreaking and unique new approach to direct cytotoxic T cells to diseased tumor or virus-infected cells and eliminate them.
Our ability to physically modify soluble HLA molecules by exchanging their natural peptide load provides a powerful tool to stimulate, sense and monitor immunological events.
Take advantage of these exquisite natural targeting capabilities and generate your own specific T cell or T cell-like receptors utilizing our specific peptide HLA antigen complexes. Access an unlimited number of both surface and intracellular protein targets overcoming a key limitation of current monoclonal antibody and CAR T cell therapies targeting only cell surface antigens.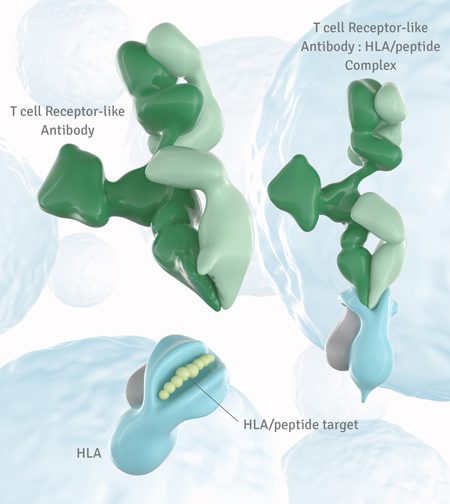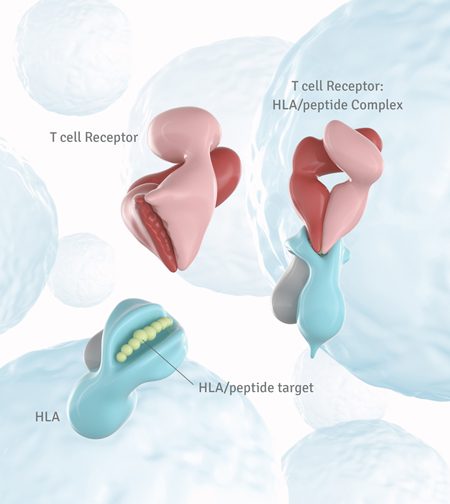 How it Works
Selection of Peptide, sHLA Molecule and Modality
To start the custom manufacturing of a specific HLA peptide complex, select a target peptide, a sHLA allele and the modality for the assembly. HLA peptide epitopes must be carefully selected. Successful candidates mostly derive from target discovery pipelines showing high promise in being immunologically recognized by T cells in the fight against cancer and infectious diseases. A broad representation of HLA alleles is available to select from at high purity levels to guarantee outstanding performance. Modalities are selected based on the application intended and can be a simple monomer, a biotinylated complex or a tetramer.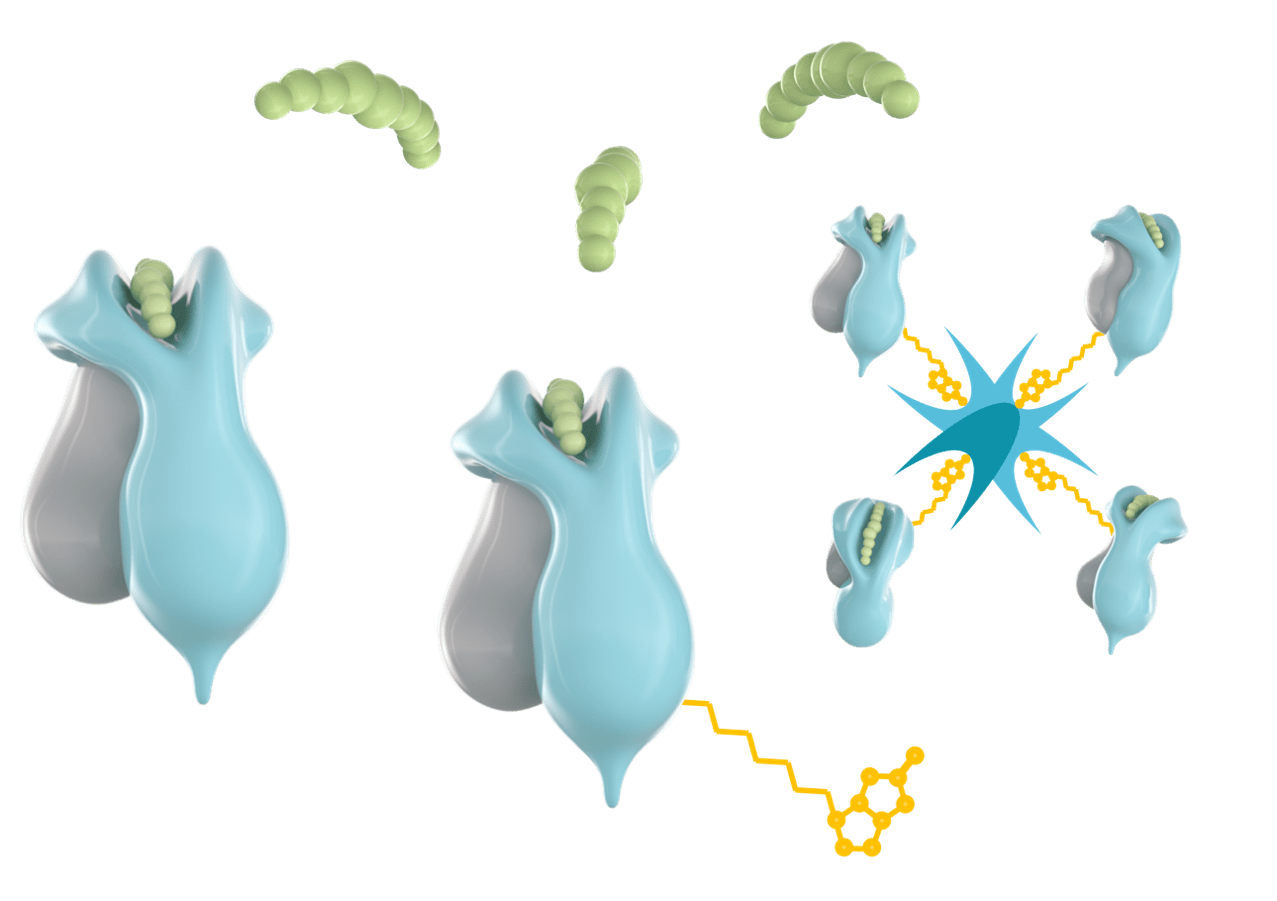 Validation of Target Peptide
Before initiating an exchange process, it is important to validate individual target peptides for HLA binding. For each project peptide, inhibitory concentrations are determined by plotting the response values as a function of the logarithms of competitor concentrations and applying a nonlinear regression dose response model with variable slope for analysis. The calculated logIC50 value is reported as measure of the effectiveness of the target peptide.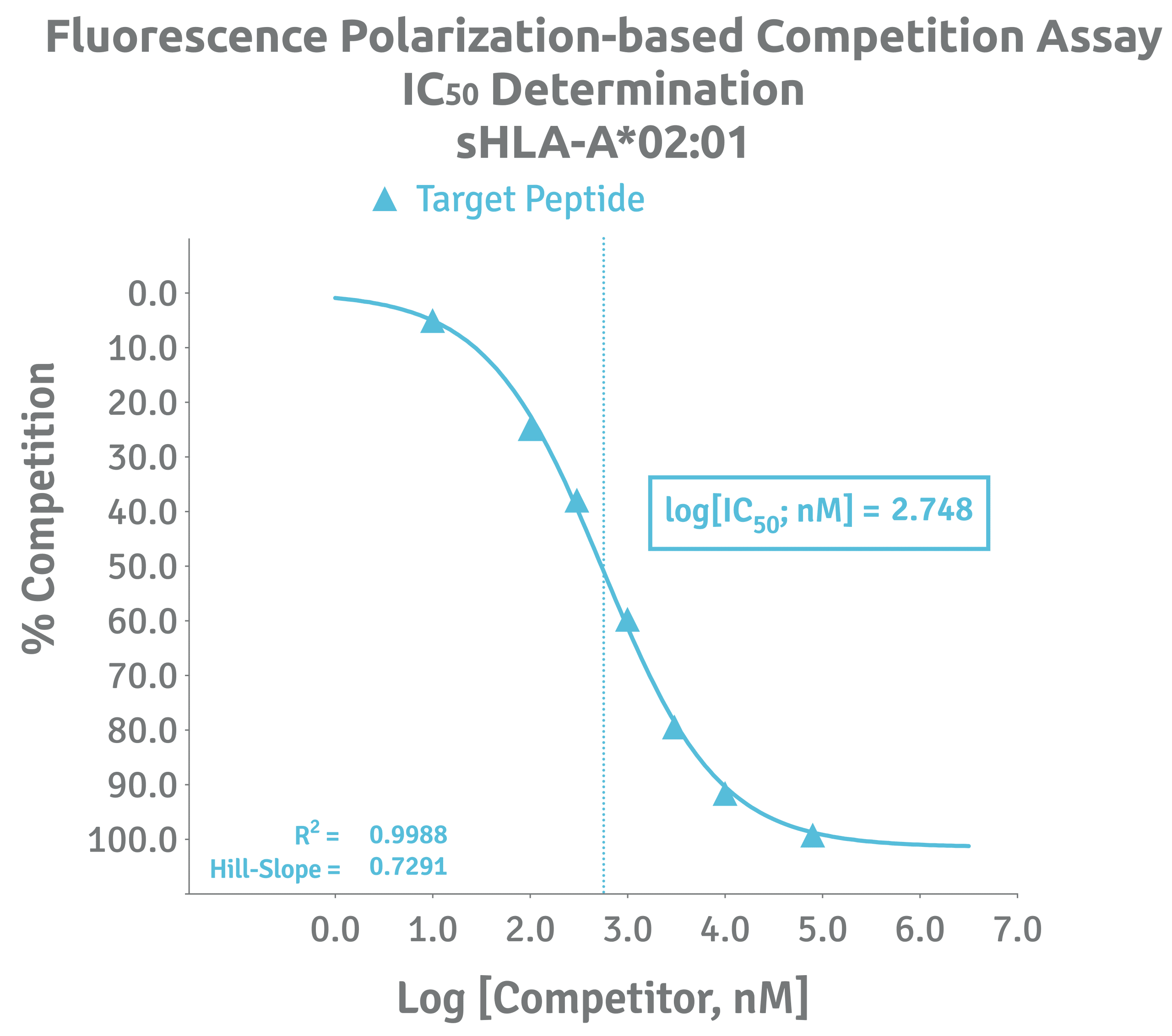 Execution of Peptide Exchange Process
Depending on the product modality, distinct peptide exchange process pipelines have been developed following multi-step protocols that include loading, peptide recovery, purification, enrichment, quantitation, and quality control stages. Each process addresses multiple aspects of increased purity by removing excess assembly components that potentially cause downstream interferences. The assembly is initiated by using a pre-manufactured soluble HLA molecule. All processes deliver stable products in a highly reproducible fashion.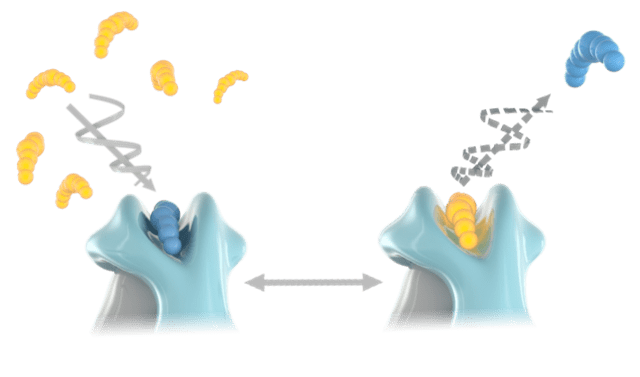 Integrity and Performance Qualification
For validation of peptide exchanged monomers and tetramers, a selective, physiologically relevant assay will be applied to report on the reagent's potency and stability, providing an assessment of the molecule's biological activity. Confirming proper structural configuration is a major part of our quality control validation procedure using best analytical practices. Assays involve the classical W6/32 – Anti-b2m Sandwich ELISA Format and dose-response curve assessments providing proper validation on the function and behavior of HLA molecules where structurally intact HLA proteins are critical.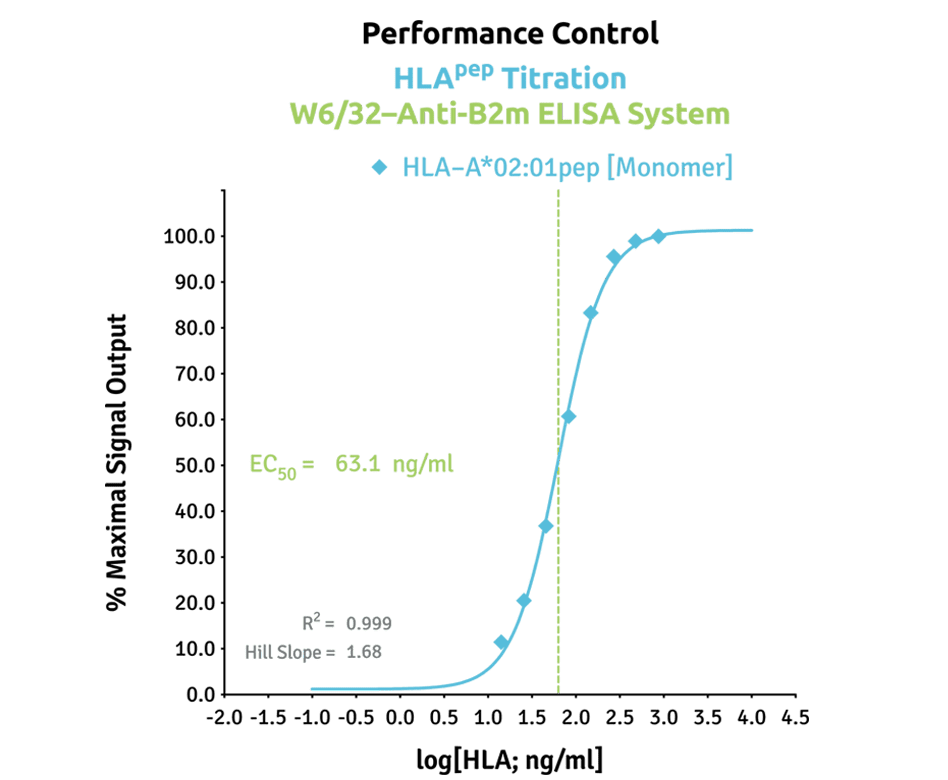 Mass-Spec Exchange Confirmation
Unprecedented, Pure Protein is the only company currently offering nano-LC Mass-Spec analysis to provide confirmation that the peptide of interest is solely presented by the engineered HLA complex. After denaturation of a small amount of engineered sHLA, ion chromatograms for the peptide of interest are extracted and compared to the chromatogram from the native HLA molecule. The process can achieve up to 99.9% exchange efficiency.
Choose from a range of HLA Alleles
Base Molecules for HLA Peptide Complex Engineering

Featured Applications
Immunization Reagent for Therapeutic and Diagnostic T cell Receptor-like Antibody Generation
HLA peptide complexes can be used as immunogens serving as injectables for standard immunization protocols to generate specific T cell receptor-like antibodies for applications in research, diagnostics, and immunotherapy.
Screening Reagent for Therapeutic and Diagnostic T cell Receptor-like Antibody Identification – Phage Technology
HLA peptide complexes applied with phage display technology can be used to screen libraries of specific T cell receptor-like antibodies for applications in research, diagnostics, and immunotherapy.
Screening/Monitoring Reagent for T cell Receptor-like Antibodies – Hybridoma Technology
HLA peptide complexes can be used to screen and monitor immune responses in sera of immunized animals as well as identify T cell receptor-like antibodies from hybridomas against an irrelevant HLA peptide complex.
Validation Reagent to confirm Immuno-Therapeutic and Diagnostic Receptor Specificity and Cross-Reactivity
HLA peptide complexes can be used to validate existing or de novo identified receptor molecules in various assay procedures to confirm their specificity and cross-reactivity or to determine kinetic parameters.
Advantages
High Quality Molecules
Naturally folded soluble HLA molecules produced in human cell lines (not bacterial), at a purity level >95% using affinity chromatography.
Customized selection
Choose from a wide range of major HLA alleles stably expressed in mammalian cell lines and available in small and large quantities.
Process Controlled
All cell lines are confirmed by sequence-based typing, the manufacturing process traced using activity measurements and each production validated.
Flexible Formats
HLA peptide complexes are available in different formats including non-modified monomers, biotinylated monomers and non-labeled tetramer complexes.
High stability
Soluble HLA molecules and their modalities are extremely stable at 4˚C for several years and stay structurally intact up to a temperature of 42˚C.
Speed
Profit from short turnaround times, including target peptide validation, integrity and performance qualification and Mass-Spec exchange confirmation.
HLA Peptide Exchange Technology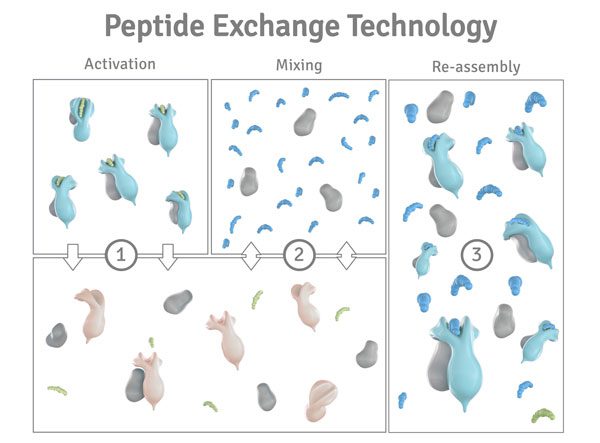 Human Leukocyte Antigens (HLA) are multimeric molecules utilized in many immune based applications that can be used in a variety of diagnostic and therapeutic formats. Pure Protein has developed a proprietary, novel approach for exchanging the naturally loaded endogenous peptide with a specific custom-designed peptide of your choice. The procedure gently removes the natural endogenous load by conserving structural integrity of the protein.
A simple three step process is employed to perform the exchange. The proprietary activation step (1) is forcing the folded structure into a temporary state of lability, making it amenable for the peptide of interest to be inserted into the groove. The mixing step (2) is providing the test peptide (blue) for insertion. To finish, in the re-assembly step (3), proper molecular formation occurs when the peptide of interest outcompetes the endogenous peptide.
Talk to an expert today
Want to know more about HLA Engineering and its Application?
If you would still like to know more about our services or technology to advance your scientific discoveries and research, or are looking for some help in defining your project needs, reach out to our experts by visiting the Contact Us page.
Expert advice, whenever you need it!
Frequently Asked Questions
What is HLA Peptide Complex Engineering?
The ability to physically modify HLA molecules by exchanging their natural peptide load without destruction of the HLA molecule.
Are you also offering fluorophore-labeled HLA peptide specific tetramers for T cell monitoring?
Fluorophore-labeled HLA peptide specific tetramers for T cell monitoring are currently under development. We are in a test phase in clinically validating these constructs. If you are interested in participating in a trail, send us an email: [email protected].
What is a Mass-Spec Exchange Confirmation?
Nano-LC Mass-Spec analysis is utilized to confirm peptide load by denaturation of a small HLA amount with 10% acetic acid and incubation at 76° C for 10 minutes. Peptide ligand(s) are then purified away from the alpha-chain and beta-2-macroglobulin using a C18 spin column. Purified peptides are diluted and injected on a nano-LCMS system (Sciex 6600+) for peptide analysis. Ion chromatograms for the peptide of interest are extracted and compared to the chromatogram from the native HLA molecule to demonstrate the presence of only the peptide of interest.
What is a T Cell peptide epitope?
A T cell epitope is a small peptide sequence, presented by HLA molecules that stimulates specific immune responses.
What are HLA peptide complex modalities?
HLA peptide modalities are different forms of modifications the HLA complexes are exposed to in order to provide a broader range of applications. We currently offer non-modified, biotinylated and tetramerized formats.
What peptide conditions do you accept?
We require a quantity of several mg lyophilized peptide. The amount required depends on the amount of HLA peptide complex to be generated.
Related Products & Services
Validate individual peptide epitope candidates by determining their physical binding characteristics and directly measure accurate IC50 values in order to judge and properly prioritize their immunogenic potential.
Choose from more than 35 HLA-A alleles to detect, profile, or monitor antigen-specific immune responses from antibodies to immune cell populations.
Select from a pool of over 65 HLA-B alleles to drive your immunological research to identify antibody immune responses or visualize antigen-specific immune cells.