HLA-DQ
From the re-emerging role of HLA-DQ in transplantation medicine to the growing attention in autoimmune conditions and disease susceptibility
We provide a matrix of highly representative HLA-DQ alleles that help to drive novel research to prevent transplant rejection and to contribute to more insight into CD4+ T cell responses. Learn more about HLA.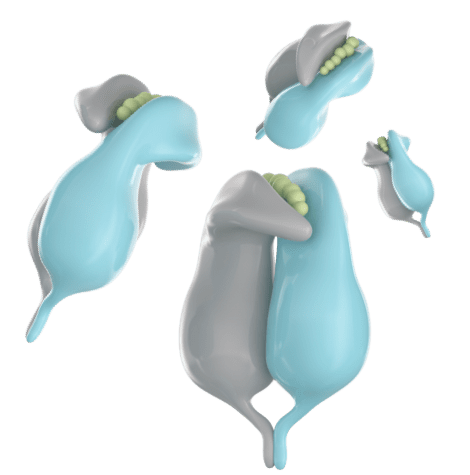 HLA-DQ Allele Map
Download our list of HLA-DQ alleles to view all available sHLA proteins as well as products in development.
Resources
Learn more about our sHLA Technology and how it can improve the quality and speed of your science
Explore the landscape of HLA applications in the fields of transplantation, autoimmunity, cancer and infectious diseases and find new ways to improve your research
Read more about our publications and discover new resources and ideas to support your endeavors
Frequently Asked Questions
What is the molecular weight of a sHLA Class II molecule?
Soluble HLA Class II glycosylated protein complexes are 61 kDa in size consisting of a 27 kDa beta chain and a 26 kDa alpha chain with a small size peptide (15 to 24mer) in the groove.
What is a DQ matrix?
Because of the high polymorphism associated with DQ molecules, we have formulated a combinatorial matrix consisting of a selection of alpha (DQA1) and beta (DQB1) chains. The DQ matrix consists of 13 DQA molecules that pair with 17 DQB molecules resulting in a combinatorial matrix of 221 possible combinations.
What does a sHLA Class II molecule look like?
Structurally, sHLA Class II proteins are heterodimeric glycoproteins consisting of an alpha chain, a beta chain and an endogenously loaded peptide they present forming a trimeric complex.
Related Products & Services
Select from a pool of over 65 HLA-B alleles to drive your immunological research to identify antibody immune responses or visualize antigen-specific immune cells
Discover a selection of over 20 HLA-C alleles, the dominant ligand for KIR on NK cells for your immunological research
Competition-based HLA peptide binding assays for the validation and screening of putative T cell epitopes